27 July
Working in collaboration with French artist Laurent-Marie Joubert, South African muralists Maria Nokufa and Joyce Ndimande joined South African curators, Bontle Tau and Seretse Moletsane along with interdisciplinary artist MoLaudi in taking over French heritage sites, Château d'Oiron and the Chapelle Jeanne d'Arc. 
Collectively, their respective practices prioritise preservation, spirituality, indigenous approaches to mark-making and above all the transference and exchange of knowledge. Together, they represent and act as conveyors of a portion of South Africa's visual and sonic history. In enabling South African artists and curators' mobility to France, the French Institute of South Africa supports the celebration of connections existing between the two regions while endorsing the establishment of new ones.
Titled Matrimoine, this visual dialogue between France and South Africa, is to celebrate Château d'Oiron's contemporary art collection. Established 30 years ago, the Curious & Miribilia collection features works by 63 artists made in response to Claude Gouffier's original Wunderkamer. Also known as a Cabinet of Curiosities, a Wunderkamer is where aristocrats of the Renaissance kept artifacts from their travels and encounters. Inspired by the château, its history, architecture and decor, the collection looks to revive and maintain the curiosity ignited during the Renaissance.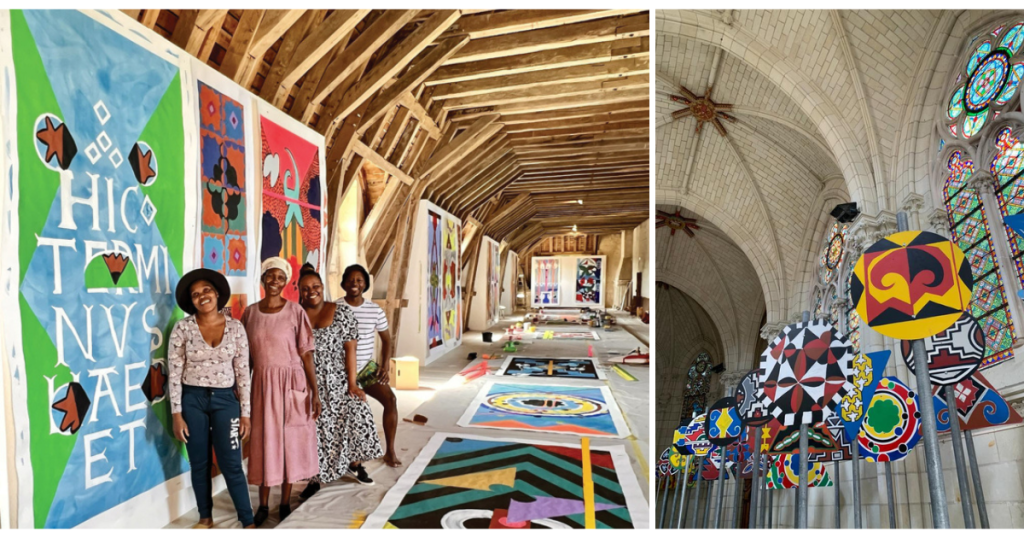 Sprouting from an invitation for the South African practitioners to respond to the art collection, the exchange began with a series of workshops where residents local to Oiron and Thouars introduced their guests to their visual traditions. Transposed onto large flags, the results of the residency are now displayed on the château grounds. A global means of communicating unity, in this context it represents the amalgamation of cultural sensibilities. Meanwhile, at Chapelle Jeanne d'Arc, the artists' expressions live on the wall of the building's stone chamber.
In concept, residency, process and exhibition, one of the threads running through the Matrimoine exhibition is the matriarchal transference of knowledge from generation to generation. In South Africa, murals found on rondavels were historically the result of feathers or thick plant roots being used to apply gentle strokes of pigmented mud onto a surface. Through repetition, supervised and instructed by matriarchs, teenagers would practice making symmetrical circles, triangles and straight lines without stenciling.
Informed by his extensive travels, Joubert's practice considers history, memory, displacement, and belonging. A relationship that is as old as the French Institute of South Africa, Joubert first came to South Africa in 1995 to participate in the very first Johannesburg Biennale. Keeping in line with referencing this pictorial tradition that is still being passed down from generation to generation, the exhibition includes some of Joubert's older works where he collaborated with an intergenerational group of women working in the medium of paint. Working with twelve muralists, who translated their mural motifs onto 65 road signs, he presented them as a work he titled Courtyard. Refreshed with a sound installation composed by multidisciplinary artist, DJ and curator, MoLaudi, as a whole the exhibition points to the durability and longevity of knowledge when it is shared.
Translating discourse into action that has tangible results, Matrimoine exhibits the benefit of cross-pollination between the regions.
In September and October, once it's run its course at Château d'Oiron, the exhibition will travel to Palais-Royal in Paris on the occasion of the Rugby World Cup as a symbol of patriotism but coming together in unison.