The French Development Agency (AFD) is launching its annual Call for Expressions of Interest (EoI) for civil society initiatives, to shortlist development and international solidarity projects that may be funded from 2024.

Both French civil society organisations (OSC) and organisations from Official Development Assistance (ODA) recipient countries, can apply.
Areas of implementation: the facility funds projects implemented in ODA recipient countries.
Sectors: all of AFD's sectors of competence – agriculture, environment, biodiversity, climate, urban development, energy, water and sanitation, education, vocational training and occupational integration, health, social action, the productive sector, microfinance, governance (human rights, local development, citizen participation and oversight, gender equality), structuration of the non-profit sector.
The following sectors are not eligible: Francophonie, university cooperation, emergency humanitarian aid.
Projects aimed at structuring the local CSO sector, and projects focusing on civic and international solidarity education, will be considered favourably under this call.

Project duration: up to three years, with possibility to extend and seek further AFD funding twice.
Overall project budget: minimum €500,000 per project.
Eligibility requirements for organisations not registered in France:
it

is

a

non

–

profit

association

or

non

–

governmental

organization

established at least three years ago, in compliance with the current legislation in the country of registration;

it is duly

registered and operates in any of the ODA Recipient countries (as per the OECD D

evelopment Assistance

Committee (DAC)

List), with a focus on sustainable development;


it is non

–

political, non

–

profit, and in

dependent;

it has independent governing bodies (General Assembly,

Board of Directors) and publishes its yearly activity report and accounts

;

its annual budget is greater than €230,000;

it

has been funded at least once (the project must be completed at the time of the EoI), either directly or

via a French CSO,  by a

n AFD Group entity (CSO Division (DPA/OSC),

Operations Department, Expertise France), regardless of the amount received.



AFD may fund maximum 80% of the overall project budget for projects led by French CSOs; and maximum 90% of the overall project budget for "local" CSOs.
Find out more about the call for EoI here and in the FAQ.
Download the EoI template here.
Submit your EoI and supporting documents on the online platform Oscar.

Applications open until 15 May 2023.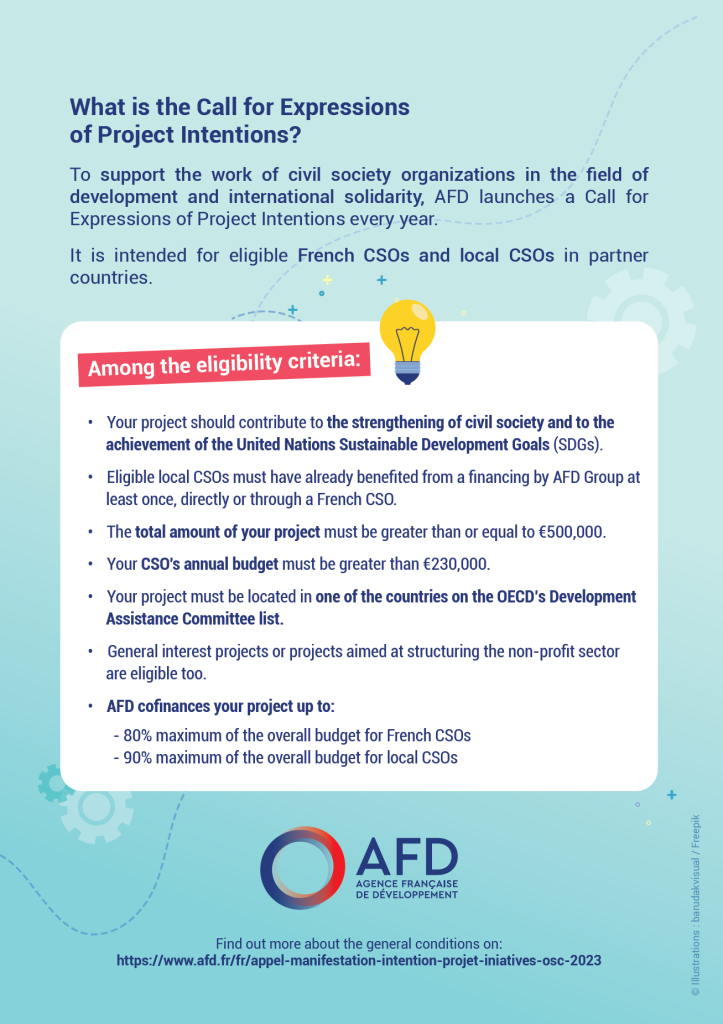 Application Details
Online applications: https://oscar.afd.fr/